I am a huge Netflix fan!  Seriously, I am a person who will spend an entire weekend binge watching a tv series until the very last episode of the very last season.
 It is such an unhealthy addiction for me, especially, since it makes me feel like a zombie; shuffling in and out of the darkness every once in awhile for food and responding to family members with short zombie-like grunts.
Fortunately, it is only a seasonal addiction, as I only seem to binge watch tv when the weather outside is super cold.  With Spring just around the corner, I find myself being a little more active enjoying the warm weather, defrosting from a long Winter.
However, every month, my parents call me with a list of  "good" tv series they recommend watching on Netflix.  One of those series is,"Brain Games," with Jason Silva.  To be honest, the way my parents explained it, I thought it was a game show.  Totally pass!  My entire childhood was spent watching Nickelodeon game shows like "Double Dare," "Legends of the Hidden Temple," and "Figure It Out."  So, yeah, I didn't even bother; but my parents kept asking me if I had watched "Brain Games" yet.  So, this week, I decided to check it out…
Not A Game Show
Okay, "Brain Games" is pretty interesting!  It is not a game show.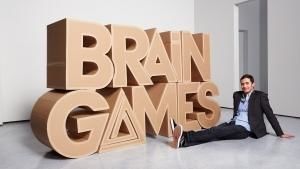 There are no contestants, prizes, nor is the host standing behind a podium with a handful of clueless cards.  Nope, "Brain Games" is seriously all about the brain!
This show talks about the fascinating and mysterious inner-workings of the mind.  It is an entertaining and educational series that is both fascinating and interesting with experiments, experts, and fun.  The best part of this show are the interesting games you can play that demonstrate how the mind works!
Ideomotor Effect Episode (No Spoil Alerts)
My favorite episode, so far, is about the Ideomotor Effect, a psychological phenomenon where our body moves unconsciously.  They demonstrated this phenomenon with the Ouija Board.  Basically, a group of volunteers call upon the dead, in which answer through the Ouija Board.  It was clear as day, until the volunteers were asked to call upon the dead again, but this time all the volunteers were blind folded.  The result, a fuzzy connection between the living and the dead.  Communication was not as clear as it was without the blind folds.
Of course, when they were not blind folded, this could easily mean that someone in the group lied and was actually controlling the wood-piece, called a planchette, across the Ouija board to connect with the dead.  However, when everyone in the group is convinced that they did not push the planchette; how do you explain that?
Interestingly, I've actually heard of the the Ideomotor Effect from one of my biology classes.  I am pretty sure it was one of my late night classes and I was half asleep, but I do recall such a term.  But, that is just it.  It is simply a term that rings a bell, but with no distinct sound to remind me what in the heck it means.  Well, the way "Brain Games" explains it, is extremely fascinating.  No spoil alerts here, but simply, the Ouija board is just the mind tricking the brain!  In case, you find their explanation a little too hard to believe, they show you how you can see the Ideomotor Effect with your own hands.  CRAZY! 
Like I said, I am not going to spoil it for you!
Personally, I thought the episode was really fascinating; however, I am still not going anywhere near a Ouija Board!
Don't Have Netflix!
If you don't have Netflix, no worries!  This tv-series is quite popular; you can find a bunch of their episodes online with YouTube.
Have you seen Brain Games?  What do you think of the series?  What is your favorite episode?